Be it people, personal belongings, or even your equipment, BH Security Systems have a core value: we strive to provide you a safe space to live in.
That's exactly what we do with our alarm system in North Vancouver. To understand how they can help you, first we need to sit through how they work.
An alarm system basically integrates several sensors into a network, controlled by a central monitoring station. Whenever either sensor gets triggered, a signal gets transmitted to the central station via the system, alerting authorities and the user of the emergency that exists. The sign of the right alarm system in North Vancouver is that it will secure the weakest points, and also take into account the environmental aspects of your premises.
Providing dependable alarm systems across the entire Vancouver metro area, BH Security Systems aims to make your personal and professional spaces safer. We do so by upgrading our alarm systems with the latest technology, particularly in intrusion detection systems. Our staff treats each client uniquely as it understands that tailored solutions are what some clients need. For others, we have our basic and advanced security system packages they may pick from.
Being authorized dealers of Linear, DSC, ICT InAxsys, and other popular brands, BH Security is proud of being one of the best providers of security camera installation in Vancouver. The wide variety of products we have on our catalogue helps us allow you to select the best security system to fulfill your safety needs. Our trained and experienced experts provide you with a free assessment of your premises to identify the perimeter-related challenges and high-risk zones there. This is how we provide you with a solution specifically tailored to fulfill your security requirements.
 The BH Security Alarm System Benefits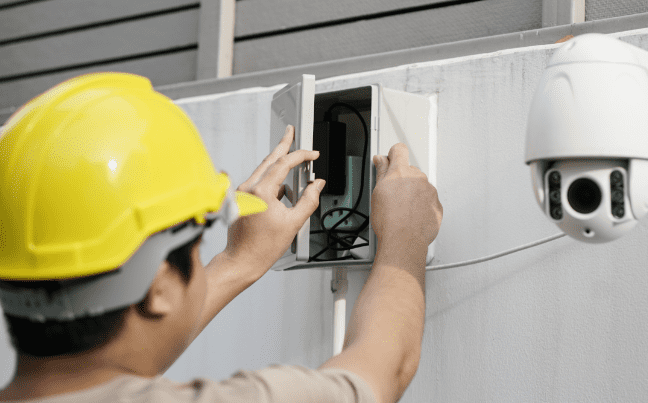 The alarm system in North Vancouver that BH Security provides you have several advantages, such as:
Guard what is important, priority-wise: we help you secure valuables as well as residents. In commercial premises, you can protect customers, employees, equipment, and also your products.
We help you curb crime: BH Security does this by sending a warning notification across all your synchronized (registered) devices in case of an intrusion. We can also help you call the authorities.
A reduced insurance premium: property owners who beef up their security sometimes benefit from lower insurance premium costs!
We also help you enjoy further beneficial features of our alarm system in North Vancouver, including:
Dual code control: the security improves when instead of one two users are required to enable or disable the system.
Support in multiple areas: we do this by creating partitions/sections in the building, each having a separate level of security.
Scheduled area control: depending on what time of the day it is, you can disarm or arm areas to enable the alarm on the main entrance for the security of your workplace after-hours.
Why BH Security Systems? 
We understand just how important it is to have an intrusion detection system installed that you can count on. BH Security Systems offers you:
Tailored solutions: to fulfill the unique specifications of your property, like never before. • Zero monthly charges: clients take full ownership of the system they get installed.
A free quote: our staff provides free of charge consultations onsite to recognize your unique location-specific needs.
Contact us today to discuss how an alarm system in Vancouver may help beef up your premises' security!