Surrey CCTV Security Camera & Intercom Repair
Intercom & CCTV Repair in Surrey
BH Security Systems offers CCTV repair in Surrey Our repairs are effective and simple. If there is a way to repair your system, we will exhaust that option first. Repairing your damaged CCTV camera is an effective way to ensure your security system stays running, benefitting the customer.
There are several types of problems that happen, requiring a CCTV repair. These include:
In case the original DVR had not been installed properly, a hard drive failure could be devastating. BH Security not only replaces the drive but rebuilds the software on the server, including both the camera software and Windows installation. Our repaired systems typically enjoy a substantially increased recording time!
Unable to check your system remotely? Is your video database destroyed? Is your system crashing? These are all signs of a software malfunction. Corrupt software installation causes this issue. BH Security gives it and updates your software to the latest version, after which, the system automatically becomes iPhone and Android compatible!
Has your security camera screen turned blue? Does it have vertical or horizontal scrolling lines or a bad signal? It means your camera is dead. BH Security analyzes the issue to figure out whether a small component will fix it, or the entire camera needs to be replaced.
Is your DVR not turning on at all? Chances are, it's dead. Sometimes the repairs are cheaper. At other times, they are almost as much as the price of a new machine having higher resolution! BH Security first assess whether there is a chance of a repair being made. If there isn't any, we help you choose a new DVR for yourself having an increased frame rate, high-resolution recording and better camera compatibility.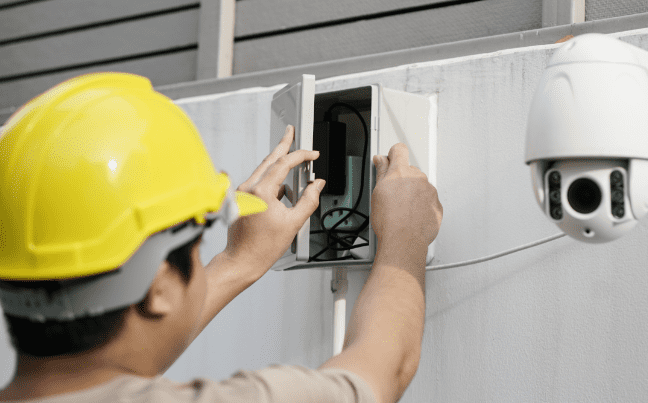 CCTV Repair in Surrey Done Right
Customer satisfaction is our number one priority, which means that we help all our clients every step of the repair and installation process. Our support staff will follow up with our customer until we are sure they are content with their choice of repair/installation!
If you want to get your CCTV repair in Surrey made by a dependable service, call BH Security Systems today!
We Repair the following CCTV Brands:
SES (Select Engineered Systems)
Contact us and arrange your free on-site consultation today.